QR Codes ~ How to make your own
I keep getting asked about how to make a QR Code so I thought I'd record this screen cast  showing how to make one. It's really easy to do, so sit down turn your volume up on your computer (so you can hear me talk) and take some notes!  Oh, and please don't laugh at me…as this was my very first attempt at screen casting!
If you need a QR code scanner or reader for your smart phone, just go to your app center and search for Bar Code scanners or key in  Zxing and you'll find the one we use.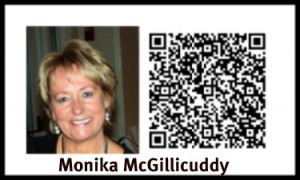 This is what a finished QR code can look like. This one has all my contact info but you can create one for just about anything. A listing, an open house…let your imagination fly!
Monika McGillicuddy Education, Resources, Technology Bar Codes, How to make a QR code, Monika McGillicuddy, QR Codes, ZXing